The coordination office of telemedicine in Baden-Württemberg, VDE e.V. arranged the first symposium with the title "Telemedicine – Digitalization in the Health Care" in the congress rooms of the Robert-Bosch hospital in Stuttgart. This symposium gave an overview about the available skills, possibilities and opportunities for telemedicine in Baden-Württemberg.
Within the scope of the symposium there was also, organized parallel to the main sessions, a best-practice forum. Interested participants of the industry exhibition got the chance to present their own experiences and proven ideas from the praxis and to discuss them with the interested guests. MEYTEC took part on the industry exhibition. The representative of MEYTEC presented a description of the successful way to deliver an effective telemedicine supported stroke care in structurally disadvantaged areas through the example of the reference project "TEMPiS" in the South-East Bavaria.
– More information: www.symposium-telemedizin.de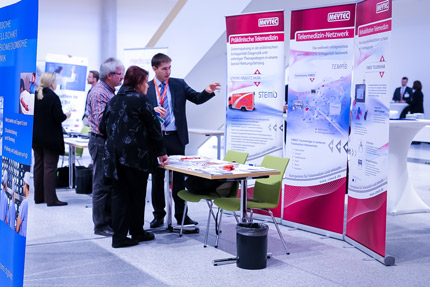 MEYTEC stand on the Telemedicine Symposium – Digitalization in the Health Care, Photo: VDE e.V.