The 2nd European Stroke Organization Conference (ESOC) took place from the 10th to 12th May in Barcelona. MEYTEC took part in the exhibition that accompanied the ESOC and focused its message around mobile stroke treatment units. There was a large interest in prehospital solutions for stroke treatment, and the event coincided with to launch of a newly formed group of experts called "PRESTO".
One of the highlights on MEYTEC's booth was the presentation of a new system for prehospital stroke diagnostic "Strokefinder". In addition to prehospital solutions the MEYTEC showed their VIMED® TELEDOC system which demonstrates key features for the deployment of the telemedicine system in a teleneurological network.
The MEYTEC booth was staffed in Barcelona with Philip Eccles (Global Project Manager), Bjarne Lundholm (Business Development Skandinavien) and Dr. Michael Böttcher (Head of the medical technologies and product manager Mobile Stroke Treatment Units). The team had productive discussions with neurological specialists from Europe, USA, Australia and Japan, who expressed interest in the bespoke systems and solutions presented by MEYTEC.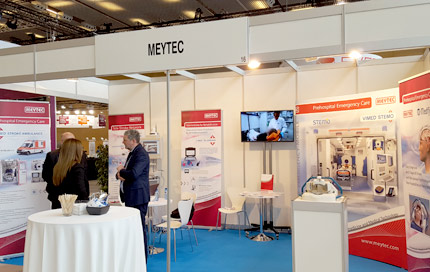 MEYTEC at the conference of the European Stroke Organization in Spain