In December 2017 the project "Bavarian Tele-Emergency Doctor (ger: "Telenotarzt Bayern")" started in the emergency district Straubing, sponsored by the German Innovation Fund and Bavarian Health Insurance Funds. The model region includes the districts Straubing-Bogen, Deggendorf and Regen in the Bavarian Forest area.
IQ medworks from Bavaria is responsible for the project implementation, with MEYTEC tasked with. the installation of a fixed workstation for the tele-emergency doctor in the Integrated Control Center operated by the Bavarian Red Cross organization in Straubing, as well as technology in 21 emergency vehicles in collaboration with other technological partners.
MEYTEC's technical team has integrated our innovative communication hub, VIMED® CAR 3, which includes a remote controllable PTZ-video camera, audio system and antennas. During the collection of/and transportation of a patient in the ambulance, there is ensured a bidirectional live-video and audio-connection to the remote emergency doctor. A special feature of VIMED® CAR 3 is the bonding of two data channels from different network providers, to deliver the necessary bandwidth to link the vehicle staff with the remote emergency doctor in the rural regions of Bavaria.
The full utilization of the pilot project "Bavarian Tele-Emergency Doctor" with all equipped emergency vehicles started in the beginning of July 2018. The minister of the interior in Bavaria Joachim Herrmann visited Straubing at the 22th of August 2018 and commented: "Nearly two months ago we started the model test of the Tele-Emergency Doctor with 21 emergency vehicles in whole emergency district of Straubing and to date feedback is very positive".
The project "Bavarian Tele-Emergency Doctor" is sponsored by the German Innovation Fond and the Bavarian Consortium of Health Insurance Association.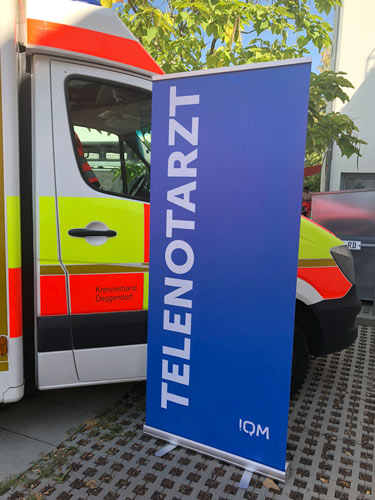 Workstation of the Tele-Emergency Doctor in the Integrated Control Center VIMED® CAR 3,Photo: STMI Bayern
The minister of the interior in Bavaria Joachim Herrmann at the project presentation, Photo: STMI Bayern